The Myobrace System™ is based on over 20 years of experience in correcting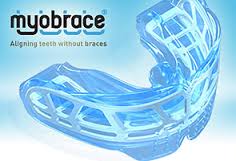 orthodontic problems without the need for braces. The Myobrace appliances which make up this system have the proven dual function of correcting the oral habits that cause poor dental development (known as myofunctional habits), while also providing light forces to align the teeth into their natural position.
Treatment uses myofunctional orthodontic techniques to address the poor oral habits (known as myofunctional habits) that are the real, underlying causes of crooked teeth and uses light, intermittent forces to align the teeth. Myofunctional orthodontic techniques have been practiced by Orthodontists and Dentists around the world for over 50 years.
This is done through the use of a series of removable dental appliances that are worn for just 1-2 hours each day and overnight while sleeping.
Daily use of the Myobrace combined with regular activities (to improve breathing, muscle function and tongue posture) results in straighter teeth and improved function, leading to optimal facial development and a healthier smile.
Why Myobrace?
Myobrace treatment is simple and effective. It does not involve wearing braces or using complex and uncomfortable dental appliances 24 hours a day, seven days a week. Wearing a Myobrace appliance for one to two hours each day and while sleeping, combined with a few simple yet effective exercises each day is all it takes for a real change to occur, and to avoid needing braces in most cases.
Braces are still the most effective way of straightening teeth, however they do not address many of the problems causing the crooked teeth. Most orthodontic problems, particularly crowded teeth and an underdeveloped lower jaw, are caused by habits such as mouth breathing and tongue thrusting. If these habits are not corrected, treatment time and the necessity for retainers will be increased. Once the braces are removed the teeth can crowd up again (known as relapse). Relapse can occur even with the best retainers. It is important to be better informed about the advantages and disadvantages of braces.